Vendor survey
By combining it with inspection services, we provide you valuable services.
We assist you so that you can find a suitable vendor and procure the instruments.
Our staff visits the workshops of domestic / overseas vendors to survey, and assesses its inspection techniques.
We provide valuable services for you by combining Expediting with Shop Inspection taking advantage by our inspection skills developed through "manufacturing" among KOBELCO group.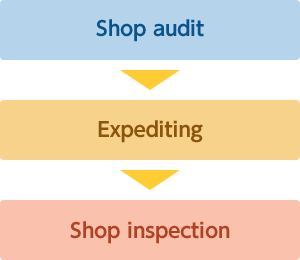 boilers / turbines
general steel structures
pressure vessels
piping / valves
heat exchangers
welded structures
castings / forgings
crane
rotating
transport facilities